4 Important Steps to Designing Your New Game Room Or Home Bar With Whiskey Barrel Furniture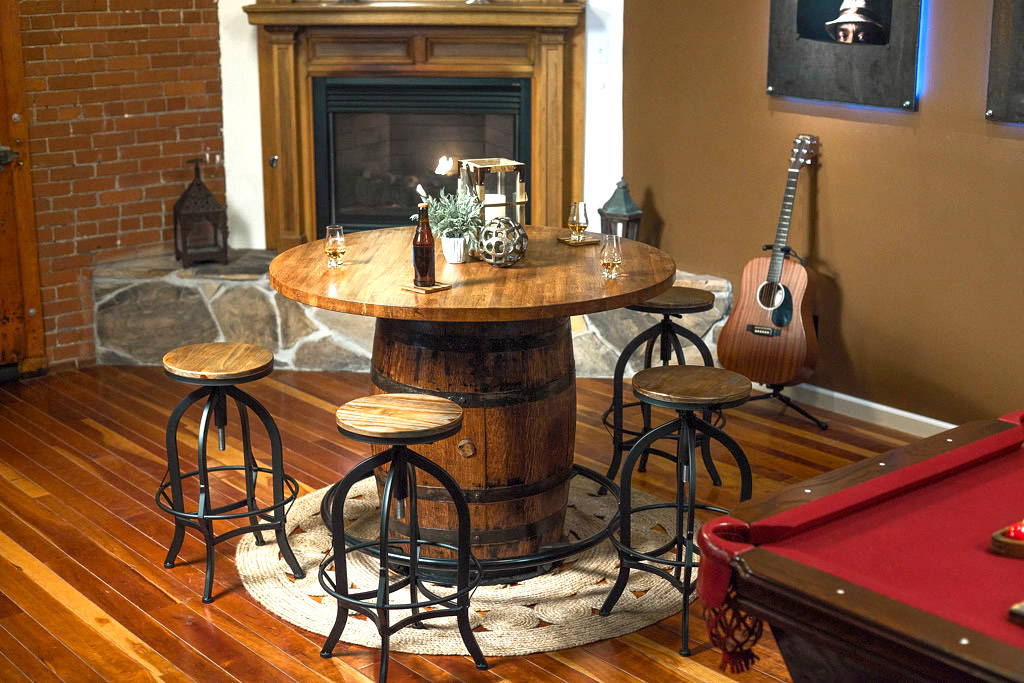 Designing a new game room or home bar can be an exciting and rewarding experience, but it can also be challenging, especially as you try to find the perfect furniture pieces to complete the space.
When people find out about whiskey barrel furniture, it often clicks for them as the perfect fit!
Whiskey barrel furniture is unique, rustic, and can add a lot of character to a room. However, it's important to consider certain factors when designing a game room with this type of furniture to ensure that the space is functional, comfortable, and stylish.
Our growing product line includes a range of sizes and shapes to ensure we have the right pieces for you.
In this article, we'll explore some key things to keep in mind when designing a new game room with whiskey barrel furniture.
1) Consider the Space
Before you start buying furniture and accessories, you need to consider the space you're working with and your goals for the space.
Consider the size of the furniture you're planning to use, as well as the layout of the room. Will you have a pool table, a bar, or a seating area? Make sure to measure everything and plan accordingly.
Oftentimes our Whiskey Barrel Pub Tables are the perfect addition to a game room or home bar. We offer both a 36-inch and 48-inch option to accommodate the space you have and how many people you'd like to sit around the table.
If a Pub Table won't fit, our Deluxe Barrel Cabinets are a fantastic place to store extra bottles and glassware, as well as provide an additional place to decorate or rest your drink!
2) Choose the Right Pieces
When it comes to whiskey barrel furniture, there are a lot of options to choose from. You can find everything from chairs and tables to bar stools and wine racks. It's important to choose pieces that not only fit the style of the room but are also functional.
For example, if you're planning on having a bar, you'll want to make sure you have enough bar stools for guests to sit on.
If you're planning on having a seating area, you'll want to choose comfortable chairs and sofas. Don't forget to consider the height of the furniture, especially if you're planning on having a bar or high-top table.
Our Whiskey Barrel Stave Stools are a particularly unique option for you to consider. Made entirely from the curved staves of whiskey barrels, these stools bring that rustic-modern style as well as comfort to your new space.
3) Mix and Match
One of the great things about whiskey barrel furniture is that it's versatile and can be mixed and matched with other styles of furniture. You don't have to stick to a completely rustic or traditional look.
Consider mixing in modern pieces or adding some colorful accessories to liven up the space. However, make sure to choose pieces that complement each other and don't clash. Don't be afraid to experiment and have fun with it!
4) Accessorize
Accessories are an important part of any game room, and they can add a lot of personality to the space. Consider adding artwork, vintage signs, or sports memorabilia to the walls.
You can also add some cozy elements like rugs or throw pillows to make the space feel more inviting. Don't forget to add lighting, both overhead and task lighting, to ensure that the space is well-lit and functional.
Conclusion
Designing a new game room or home bar with whiskey barrel furniture can be a fun and rewarding experience. However, it's important to consider certain factors when planning and designing the space.
Make sure to consider the size of the room, choose functional and stylish furniture pieces, mix and match styles, and add accessories to personalize the space.
With these tips in mind, you can create a game room that's both functional and stylish, and one that you'll enjoy spending time in.